Firm at a Glance
With an entrepreneurial spirit at our core, Weil lawyers and staff bring passion, creativity and optimism to all that we approach. We don't ask, "How was it done last time?" we ask, "How can it be done better?"
Our success stems from our role as strategic business partners and as innovative problem solvers for clients wherever they operate. Talented individuals who want a seat at the table and to tackle complex, challenging matters on behalf of world-class companies will find ample opportunities to shine.
At the forefront of change in law and corporate social responsibility
Pioneered major areas of law, including corporate governance, private equity, and bankruptcy and restructuring
At the vanguard of legal innovation for the digital age
Founded in 1931
> View information on Weil's Executive Partner Barry Wolf and our strategy for success
Our Offices
Offices spanning 3 continents and 5 countries:
Beijing

Boston

Dallas

Frankfurt

Hong Kong

Houston

London

Miami
Munich

New York

Paris

Princeton

Shanghai

Silicon Valley

Washington, DC
Our Practices
We consider ourselves not only legal advisors but also strategic business partners to our clients, providing sound and pragmatic guidance on their most sensitive and important issues.
We are a full-service firm providing counsel to our clients on matters across Litigation; Corporate; Tax, Executive Compensation & Benefits; and Restructuring Departments.
Our People
Approximately 1,100 lawyers worldwide

Speak 48 languages

Communicate effectively across many cultures

U.S. lawyers and staff hail from 40 countries around the globe
"It was the sophistication and high-profile nature of Weil's work that brought me here. It's the people who have kept me here." Kyle Krpata, Partner, Silicon Valley
Launch a Career
When you join Weil, you are not just getting a job, you are launching a career. Not only will you work together with Weil colleagues, you will partner with clients and hone your skills as a business lawyer. In doing so, you will be building skills that can take you in many different professional directions. You will also have access to robust training and professional development programs.
Training includes:
Programs focused on topics such as professional ethics, client service and time-management
Department-specific orientation programs designed to provide all the substantive information to get your career off to a promising start
In-house training programs throughout the year that educate new lawyers and keep experienced lawyers current in their fields
Professional Development
Mentoring
At Weil, we place a high priority on mentoring relationships, both formal and informal. The professional development that takes place day-to-day is invaluable. Upon arrival at the firm, each new associate is paired with a New Associate Partner Advisor and an Associate Mentor. These relationships last through the first year of an associate's time at Weil. After one year, each associate submits a choice of a Partner/Counsel Mentor.
Additionally, informal mentoring relationships between Partner Advisors, Associate Mentors and associates are encouraged throughout each associate's career. This guidance comes in the form of extra insight, coaching, or tips on how to impress clients by delivering stellar work that will realize a client's business objectives. Along with offering instruction, guidance and feedback on an ongoing basis, senior attorneys support associates in fashioning a sustainable work-life balance, which may include such features as flex-time.
Training & Evaluations
Weil offers training programs in each department beginning with New Associate Orientation. Over 225 in-house training programs and workshops are conducted, including Litigation Trial Skills, Restructuring Department New Associates' Training, Team Leadership and Project Management, and Business Development. These programs are firmwide and are conducted live or broadcast via video and/or audio to each office. Associates may supplement our in-house trainings with programs offered by various outside providers such as the Practising Law Institute.
To enhance the professional growth and development of our associates, Weil has a performance evaluation system that is intended to provide associates with clear and specific feedback on their performance. Our evaluation system includes an associate self-evaluation questionnaire, written evaluation forms and training for partners on how to conduct meaningful performance reviews. We also provide training for associates on how to get the most out of their review session.
Associates receive two reviews: a mid-year review in June/July and a second review shortly after year-end. We currently evaluate each associate's performance based on the criteria set forth below:
Substantive Legal Knowledge
Analytical Skills
Written and Oral Communication Skills
Responsibility
Professionalism
Leadership
"We strive to give clients the top quality work that we can, and it's through training our associates to be the best they can be that enables us to do that."Ronit Berkovich, Partner, New York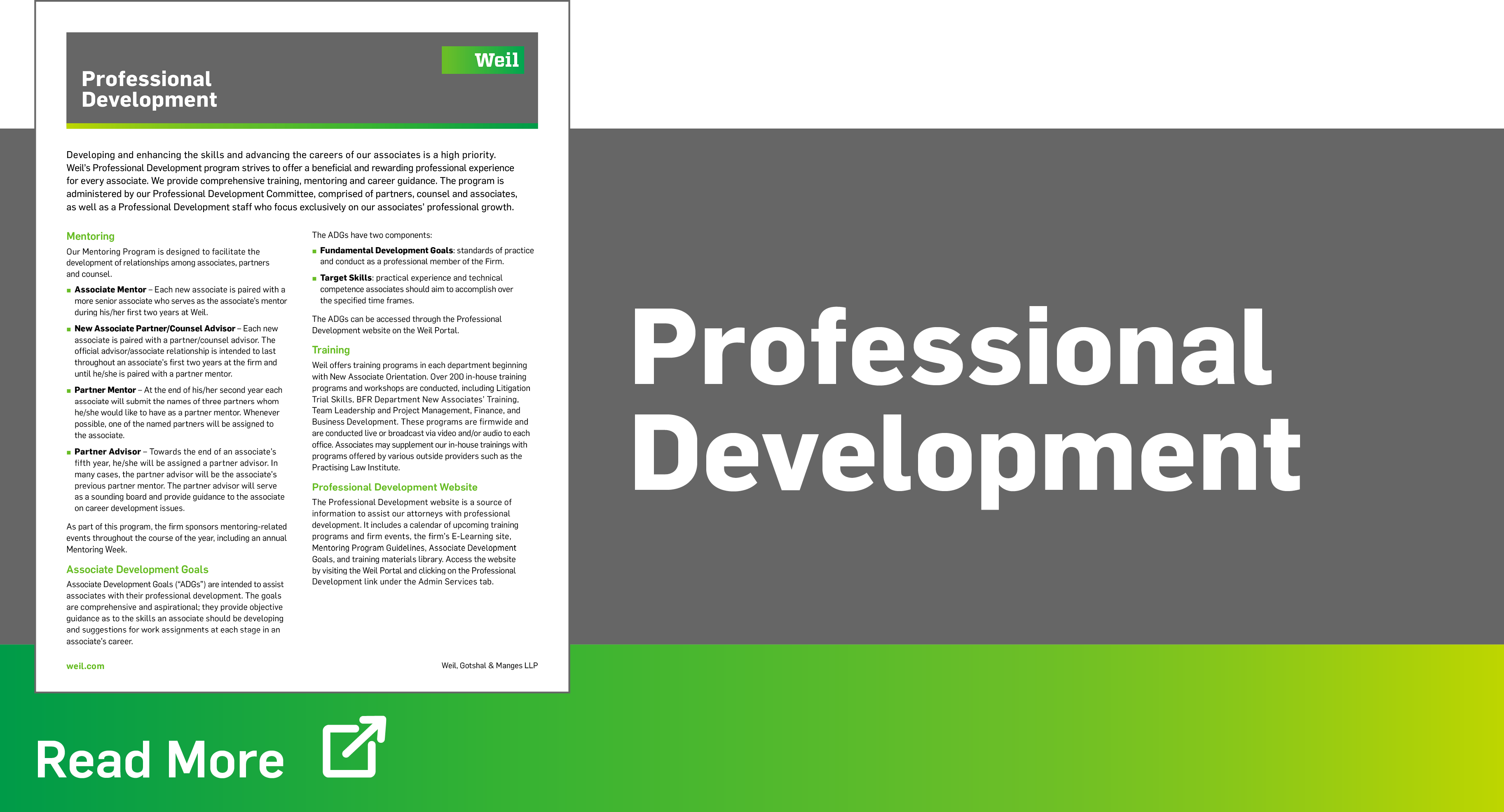 Read More About Professional Development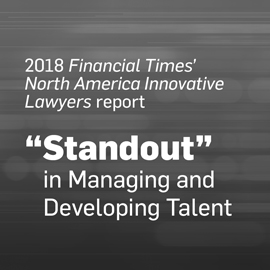 Beyond Weil
Wherever your career takes you, this practical, client-oriented mindset will be extraordinarily helpful. And if your career does move beyond Weil, our Alumni Program helps you stay connected to Weil's extensive professional network.
5300+ Alumni in our Global Network
150+ Alumni Serving in the Judiciary and Government Agencies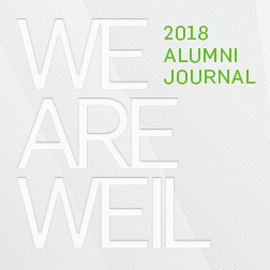 >> Read About Weil Alumni Careers
Be Business-Minded
At the forefront of change, Weil has been a first-mover in partnering with clients to understand the full picture of their needs and help them achieve strategic goals. Sophisticated clients today require this new type of business lawyering and, at Weil, we adapted to this model years ago. We don't just counsel clients; we work side-by-side with them to gather a 360-degree view of their business so that we can be best positioned to help them move forward. Clients demand these skills from lawyers today, and you will start your career with an unmatched opportunity to build a solid foundation and to stay ahead of the pack. Our entrepreneurial culture and meritocracy provides you with the chance to gain experience and advance more quickly than you would elsewhere.
In this atmosphere, you will have the opportunity to:
Team up with colleagues to find solutions for clients and execute them to achieve real results
Learn from dynamic, action-oriented business lawyers who don't spend hours and hours pondering theories
Gain a seat at the table and take on challenges and responsibilities that will help you build marketable skills and lay the foundation for a fulfilling professional life
Summer Associate Program
Your summer at Weil is packed with opportunities to learn and develop.
Our commitment to your career begins early and we have a team of people to support you, including assignment coordinators, associate mentors, social coordinators and Summer Program Committee partners.
We offer trainings in Deposition, Writing, Negotiation and Diversity, as well as a Speakers Series featuring talks with prominent clients, alumni and firm leaders.
Apply for a 2L Summer Associate Position at Weil Here.
Apply for a 1L Summer Associate Position at Weil Here.
Video: Our Summer Associate Program
2020-2021 Virtual 2L Interview Season Dates
| | | |
| --- | --- | --- |
| Date | School | Participating Offices |
| November 17th | Yale Law School | New York |
| December 4th | Stanford Law School | New York, Silicon Valley |
| December 6th | Penn Regional Interview Program | Miami |
| December 16th | University of Chicago Law School | New York |
| January 11th | Columbia Law School | Miami, New York, Silicon Valley |
| January 12th | Vanderbilt University Law School Job Fair | New York |
| January 12th | University of Pennsylvania Law School | New York |
| January 12th | University of California, Berkeley School of Law | Silicon Valley |
| January 13th | University of Michigan Law School | New York |
| January 13th | Harvard Law School | Boston, Miami, New York, Silicon Valley |
| January 13th | University of Virginia School of Law | Dallas, New York, Washington, D.C. |
| January 13th | Northwestern University Pritzker School of Law | Dallas, Miami, New York, Silicon Valley |
| January 14th | New York University School of Law | Miami, New York |
| January 14th | Notre Dame Law School New York Interview Program | New York |
| January 15th | Santa Clara University School of Law | Silicon Valley |
| January 15th | Duke University School of Law | Dallas, Washington, D.C., New York |
| January 15th | Loyola Patent Law Interview Program | New York, Silicon Valley |
| January 15th | Vanderbilt University Law School Job Fair | Dallas |
| January 19th | Tulane University Law School | New York |
| January 19th | UCLA School of Law | Silicon Valley |
| January 20th | Cornell Law School Job Fair | Miami, New York |
| January 21st | University of Texas School of Law Job Fair | Dallas, New York, Silicon Valley |
| January 21st | USF School of Law | Silicon Valley |
| January 22nd | Boston College Law School/Boston University School of Law | New York |
| January 22nd | UC Hastings College of the Law | Silicon Valley |
| January 23rd | North Eastern Black Law Student Association Job Fair | New York |
| January 23rd | SMU Dedman School of Law | Dallas |
| January 25th | Georgetown University Law Center | Dallas, Miami, New York, Washington, D.C. |
| January 25th | Benjamin N. Cardozo School of Law | New York |
| January 26th | Howard University School of Law | New York, Washington, D.C. |
| January 26th | Vanderbilt University Law School | Dallas |
| January 27th | St. John's University School of Law | New York |
| January 28th | Fordham University School of Law | New York |
| January 28th | Boston University School of Law | Boston |
| January 28th | Suffolk University Law School | Boston |
| January 29th | Washington and Lee School of Law/ William & Mary Law School Northeast Interview Program | New York |
| February 1st | Brooklyn Law School | New York |
| February 4th | Emory University School of Law Job Fair | New York |
| February 9th | New York Law School | New York |
| February 12th | University of Miami School of Law | Miami |
| TBA | Boston College Law School | Boston |
Summer Associate Perspectives
Weil's summer associates share their perspectives on firm culture, mentoring, training, assignments, pro bono and social events. Read through more than 150 first-person views on a day in the life of a Weil summer associate.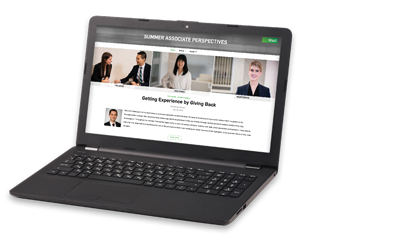 Diversity Fellowships @ Weil
Summer Program Locations
Our Summer Associate Program is available in six U.S. cities. Practice areas and duration vary by city.
Pro Bono Externships
Our commitment to Pro Bono service extends to all aspects of working at Weil. Our full-time associates are allowed the opportunity to work exclusively on pro bono matters with leading public service and charitable organizations for several months.
Summer associates based in New York are given the opportunity to participate in the firm's pro bono summer externship program by spending two weeks at a public interest organization. These externships afford summer associates the opportunity to attend pro bono training programs, work alongside staff attorneys, conduct administrative hearings, assist on appeals, and interview clients. Apart from externships, summer associates are also assigned pro bono cases under the supervision of attorneys in the various practice groups through which they rotate.
"We encourage associates to do pro bono not only because it's the right thing to do…but also, we see it as a great way for a young associate to get the kind of opportunities they might not otherwise get that early on in their careers." Jared Friedmann, Partner, New York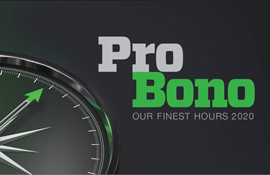 >> Read About Pro Bono at Weil
Gain Exposure to Premier Clients
Gain Exposure to Premier Clients
Part of being a business lawyer is having a seat at the table, and at Weil you'll get this chance considerably earlier in your career than you would elsewhere.
And it won't be a seat at just any table. Weil's diverse and deep client list spans leading corporations, financial institutions, private equity funds and private companies, as well as executives, boards, board committees and directors. You'll have the opportunity to partner with premier clients across industries and sectors.
Premier Clients & Accolades
Advent International
Alibaba
Allergan
Belmond
Blackstone
Brookfield
Campbell Soup Company
CBS
Carlyle Group
Dow Chemical
Eli Lilly
Estée Lauder Companies
Exxon Mobil
Facebook
General Electric
General Motors
Goldman Sachs
Hilton
J. Crew
Johnson & Johnson
L'Oréal
Marsh & McLennan
Marvel Entertainment
MGM Resorts
Morgan Stanley
Pandora Media
Procter & Gamble
Providence Equity
Sanofi
Showtime
Sirius XM
SoftBank
Takata Corporation
Tiffany & Co.
TPG
Twitter
Walgreens Boots Alliance
Westinghouse
Practice Groups of the Year: Bankruptcy, Class Action, Private Equity, Real Estate, Securitizations – Law360 2019
Advising 72% of the 50 largest global private equity funds – PEI 300 2019
More than 1,700 deals in the last five years totaling $3 trillion+
Ranked Top 5 for U.S. Equity IPOs – Bloomberg
Chief debtors' counsel in 6 of the 7 largest U.S. bankruptcy filings in history
Five Litigation Department of the Year awards – The American Lawyer 2017–2020
Be an Outstanding Corporate Citizen
Be an Outstanding Corporate Citizen
Our constant questioning of, "How can it be done better?" is not limited to the boardroom and the courtroom. We also seek to stay ahead of the pack when it comes to corporate social responsibility.
Giving back has always been part of Weil's culture, and we do this through five pillars of our engagement with the places where we live and work: the Weil Foundation, social responsibility, pro bono, diversity and inclusion, and WeilGreen. 2018 marks the 35th anniversary of the establishment of the Weil Foundation, whose charitable contributions along with those of the Firm have totaled nearly $100 million since 1983. Learn more about our efforts in the inaugural edition of the Weil Foundation & Corporate Social Responsibility U.S. Annual Report, which looks at our long history of supporting the communities around us and provides an overview of the Firm's philanthropic efforts in the U.S. for 2017.
We are also committed to diversity – and we are not just talking about it, we are taking action. TOWER, the Taskforce on Women's Engagement & Retention, is a committee of women and men partners from across the Firm focused on the advancement and development of women attorneys globally. Even though we are among the diversity leaders in Big Law, we know the industrywide statistics and want to do better.
Implemented groundbreaking pro bono policy a decade ago that includes the goal that every lawyer perform 50 hours of pro bono each year
Weil has committed more than one million pro bono hours since commencing our current pro bono program in 2005
Among the first New York firms to institute a formal diversity policy and firmwide diversity training program.
Diversity & Inclusion
Diversity and inclusion have been core values since our founding in 1931. For over 30 years, Weil has been a leader in investing in formal initiatives to promote an inclusive culture. Our culture of respect and support creates an environment where all feel comfortable and encouraged to excel.
Among the first firms to implement formal affinity groups; unique among firms by hosting individual conferences for Asian-American, Black, Latino, and LGBTQ+ attorneys. Our 5 affinity groups are: Asian Attorneys@Weil, WeilLatinx, The Black Attorney Affinity Group, WeilPride (LGBTQ+ Association of Weil), Women@Weil.
Weil's U.S. employees speak 48 languages; 37% of 2018 U.S. summer associates were LGBTQ+ and/or people of color; 17 firm leaders are LGBTQ+, people of color, or women; 42% of U.S. partners promoted since 2007 have been women.
Weil celebrated its fifth biennial anniversary of Diversity Week in November 2015 by supersizing our efforts to a month-long celebration. Diversity Month 2017 explored the Firm's historic commitment to inclusion and delved into the topic of "Diversity of Thought" with about 30 events worldwide.
Weil's Diversity Fellowship Program offers $10,000 scholarship awards to first- and second-year law students to promote greater diversity in the profession. Since 2011, the firm has awarded 53 fellows.
Upstander@Weil is an initiative to inspire all attorneys and staff to stand up for inclusion by expanding the powerful "ally" concept to people of color, LGBTQ+, women, and other groups.
Weil was named the Most Inclusive Firm for LGBT+ Lawyers at the Chambers Diversity & Inclusion Awards in 2019. The firm also won "Best International Firm for Diversity" at Euromoney's Americas Women in Business Law Awards for four consecutive years, from 2016 through 2019, and was honored by Morgan Stanley with the 2016 "Leadership and Excellence in Inclusion and Diversity" Award.
Weil was "Highly Commended" in the 2019 Financial Times North America Innovative Lawyers report for both our Upstander@Weil program, which supports and educates employees in how to be allies to colleagues and has served as a blueprint for similar diversity and inclusion programs at other organizations, and for our TOWER (Taskforce on Women's Engagement & Retention) initiative focused on increasing the involvement of women in business development and client relationships, leading to increased participation in client pitches by female partners by nearly 70% over four years.
Hear from Veronica Bonhamgregory, Associate, Dallas about our Diversity Initiatives on Staffing
View more information about our affinity groups
Pro Bono
Weil's commitment to pro bono work is deeply ingrained in our culture. We believe that it is our obligation to volunteer our skills to those who would otherwise face severe challenges as victims of injustice or abuse without legal representation. The importance Weil places on providing these services to the community is demonstrated by our goal of having all lawyers at the firm perform 50 hours of pro bono work each year. Since the current program began in 2005, Weil has provided more than 1 million hours of Pro Bono service.
Recent Pro Bono News
International Pro Bono Excellence Award — Cyrus R. Vance Center for International Justice 2019
Pro Bono Publico Award — The Legal Aid Society 2019
Changemaker Award — Center for Constitutional Rights 2018
Best International Firm for Pro Bono Work — Euromoney Legal Media Group's Americas Women in Business Law Awards 2018
Experienced Attorney Hiring
Experienced Attorney Hiring
Whether you are a judicial clerk or considering a move from another law firm, Weil offers a wide path to professional growth and success for lawyers who have already embarked on their careers. We are continuously searching for talented lawyers who share our commitment to provide premier service to clients and to the community.
Once on board, lateral associates can expect:
Outstanding training and mentoring from lawyers at the top of their fields
A dynamic culture that prizes thinking outside the box
Compensation and benefits that are highly competitive in the market
Judicial Clerks
Weil has welcomed judicial clerks from U.S. federal courts and Delaware Court of Chancery to the firm. We value the clerkship experience and the incomparable insights that clerks bring to our clients and our practice of law. Many of our former judicial clerks worked with us as summer associates before taking on their clerkships. Hiring bonuses for judicial clerks are based on current market factors and are competitive.
"I started my career elsewhere and came to Weil as a mid-level associate … At Weil, you work hard, but you get to do it with a team of people who become your friends." Gavin Westerman, Partner, New York
Apply for an Associate Position
Benefits, Perks & Programs
Everything you would expect from a large international law firm – and some things you wouldn't. Our benefits, perks and programs demonstrate Weil's commitment to being a great place to work. Your total compensation package is more than just your salary. It also includes an excellent benefits package and much more, featuring:
Medical, Dental and Vision Benefits
Life and Accidental Death and Dismemberment Insurance
Disability Coverage
Qualified Transit and Parking Plan
Flexible Spending Account Plans
401(k) Savings Plan
Health Club Membership Reimbursement Program
Health Advocate
Bright Horizons Emergency Child and Adult/Elder Care Service
Humana EAP and Work-Life Program
Milk Stork
Career and Life Coaching
Social Finance "SoFi"
Private Banking at Citi Private Bank
Travel Desk
Inclusive Parental Leave
Flex-Time Work Arrangements
Bar Association Membership Program
Bar Examination and Review Courses Fees
Bar Licensing and Registration Fees
Bonus Referral Program
In-House CLE Training
Work-Life@Weil
Weil offers many leading edge work-life programs and benefits to employees. Work-life means different things for everyone, so we offer a suite of options reflecting the diverse needs of our employees and their shifting life circumstances. Such programs include flexible work arrangements, inclusive parental leave and benefits, services to help new business-traveling mothers, back-up child care, opportunities to give back to the community, and more.
Benefits and Resources
Highlights of our U.S. work-life programs, benefits and resources include—but are not limited to—the following.
OnDemand Coaching

U.S. associates and counsel have access to confidential, one-on-one external professional coaching for targeted career development needs.
The reasons may include, but are not limited to: delegation and people management, career planning and development, networking and business development, executive presence and leadership skills, work-life integration, transitioning to and from leave, etc.
Remote Working Policy

Eligible U.S. associates may work remotely up to one day per week.
Humana EAP and Work-Life Program
U.S. employees and their household members have access to various programs offering confidential assistance:
Short-Term Counseling offers confidential sessions to help with relationships, workplace challenges, grief and loss, parenting support and many other concerns.
Work-Life offers research and referrals for services and resources that help with childcare, adult care, and everyday needs, like education, moving, home repairs and travel.
Legal and Financial Services offers consultations with an attorney or financial professional on issues such as real estate, retirement planning, separation and divorce, budgeting/debt reconstruction and trusts and estates.
LifeCoach offers unlimited sessions for a personalized, holistic program that can help employees identify and achieve personal and professional goals: stress management, work-life balance and career goals.
Bright Horizons
Back-up Child, Adult and Elder Care: U.S. employees have access to 20 days per child/adult annually of high-quality child care in a Bright Horizons center, or in-home care for a child, adult or elder relative.
Infant Transition Program: U.S. employees have access to an additional 20 days of back-up care during their child's first year.
Additional Family Support
Summer Back-up Care Programs: U.S. employees can apply their 20 days of back-up care visits at Bright Horizons Summer Explorations and Steve & Kate's Camps.
Sittercity Membership: U.S. employees have access to the Sittercity database (membership fee and sitter basic background check fee are waived ), which can be used to find sitters, housekeepers, elder care and pet care.
Years Ahead Program: U.S. employees can access elder care resources, planning, and referrals through this benefit.
Tutoring and Test Prep: U.S. employees can access tutoring, test prep, and homework help on-line and in-person through Revolution Prep and College Nannies, Sitters, & Tutors at discounted rates.
Preferred Enrollment: U.S. employees can benefit from Preferred Enrollment at select Bright Horizons child care centers, enabling them to receive priority on waitlists or enjoy discounts.
Mother's Room

Weil has a Mother's Room in several of our offices for women attorneys, administrative staff and visiting clients.
The rooms are designed to serve as a discreet, quiet, and comfortable facility to assist nursing mothers who have returned to work.
Milk Stork
Milk Stork helps business traveling, nursing mothers store and ship their milk back home while they are away.
Nursing mothers who are traveling for work can order Milk Stork kits online for delivery to their hotel.
The kits are pharmaceutical-grade shipping coolers that provide everything needed (breast milk storage bags, instruction card and shipping seals).
Flexible Work Arrangements

Weil has a long-standing Flex-Time program for associates who wish to adopt a reduced work schedule while continuing their commitment to practicing law.
Inclusive Parental Leave
Following the birth or adoption of a child, U.S. associates and counsel are eligible for 10 weeks of paid Parental Leave, regardless of gender or caregiver status.
Birth mothers and primary caregivers of an adopted child or a child born by surrogate are eligible for an additional 10 weeks of paid Parental Leave, for a total of 20 weeks.
Inclusive Benefits
Transgender health benefits
Same and opposite sex domestic partner benefits
SoFi
Social Finance ("SoFi") provides a suite of financing/refinancing options with low interest rates (and other perks): student loan, mortgage, personal and parent loans.
This service is available to all U.S. employees, their family and friends.
Work-Life Workshops and Educational Programs
Recent program topics include: family members with disabilities; expert presentations on nursery school admissions process; traveling for business as a working parent; infant and child CPR; estate planning process for parents; building resilience; finding success as working parent.
Work-Life Related Perks
Health Club Membership Reimbursement Program
Fitness Center Corporate Discounts
Pet Insurance Discount
Private Banking at Citi Private Bank
Technology Discounts
Travel Desk to arrange all corporate and personal travel
Community@Weil
Weil has a long history of giving back to the community, particularly to organizations with diverse constituents, and by working together, we can make a bigger impact in the lives of people who need our support.
Volunteer Time Off – U.S. employees have one day of paid time off per year for the purpose of volunteering with an approved nonprofit organization. VTO is in addition to your paid time off.
Weil Gives – Employee Giving Program – Weil Gives is our new employee giving program to facilitate and encourage charitable giving on an individual level. Each month, Weil will designate a particular cause or issue to support, and each U.S. office will select a local charity for which to raise money that is related to the designated cause. We challenge each other to contribute the most money to worthy causes. The Philanthropic Committee matches up to $25,000 annually for the office that has the greatest overall percentage participation in the Weil Gives program.
Meet Us
Weil's entrepreneurial and diverse culture makes for a work experience that is professionally rewarding and personally fulfilling. Weil is a place where so many talented lawyers from many kinds of backgrounds want to build a multifaceted, significant and satisfying career.
Play the videos below to meet some of our dynamic lawyers.
How to Apply
To apply for an associate position at Weil, please submit an application online for any of the open positions. Search firms should email candidate applications directly to the Recruiting Contact in the office(s) in which the applicant is interested.
Apply for an Associate Position at Weil Here.
Apply for a 2L Diversity Fellowship Position at Weil Here.
Apply for a 2L Summer Associate Position at Weil Here.
Apply for a 1L Diversity Fellowship Position at Weil Here.
Apply for a 1L Summer Associate Position at Weil Here.
Contact List for U.S. Offices
Boston
Chelsea Lawson, Specialist, Legal Recruiting
chelsea.lawson@weil.com
Telephone: +1 617 772 8351
Facsimile: +1 617 772 8333
Dallas
Morgan Wilson, Legal Recruiting & Associate Relations Specialist
morgan.wilson@weil.com
Telephone: +1 214 746 8240
Facsimile: +1 214 746 7777
Houston
Allison Wallace, Director of Administration – Houston
allison.wallace@weil.com
Telephone: +1 713 546 5067
Facsimile: +1 713 224 9511
Miami
Rosa Lopes, Director of Administration – Miami
rosa.lopes@weil.com
Telephone: +1 305 577 3162
Facsimile: +1 305 374 7159
New York
Wesley B. Powell, Director, Legal Recruiting
recruit@weil.com
Telephone: +1 212 735 4553
Facsimile: +1 212 310 8007
Silicon Valley
Lauren DeBernardi, Manager, Legal Recruiting & Associate Relations
lauren.debernardi@weil.com
Telephone: +1 650 802 3011
Facsimile: +1 650 802 3100
Washington, DC
Abby Royal, Legal Recruiting & Associate Relations Manager
abby.royal@weil.com
Telephone: +1 202 682 7023
Facsimile: +1 202 857 0940
It has been and will continue to be the policy of Weil to provide equal opportunity to all applicants for employment. Weil administers its personnel practices, including recruitment, hiring, promotions and other terms and conditions of employment, in a manner that does not discriminate on the basis of race, color, religion, national origin, disability, sex, age, marital status, sexual orientation, gender identity, gender expression, liability for service in the Armed Forces of the United States or any other unlawful criterion or circumstance.
Weil respects your privacy. By submitting information to us, you agree to the terms of Weil's privacy policy, https://www.weil.com/about-weil/privacy-policy, which addresses the personal information Weil collects and the purposes for which Weil will use that information in Sections 2 and 3.